Tres Palmas Hotel - San Juan
18.4527

,

-66.04455
119US$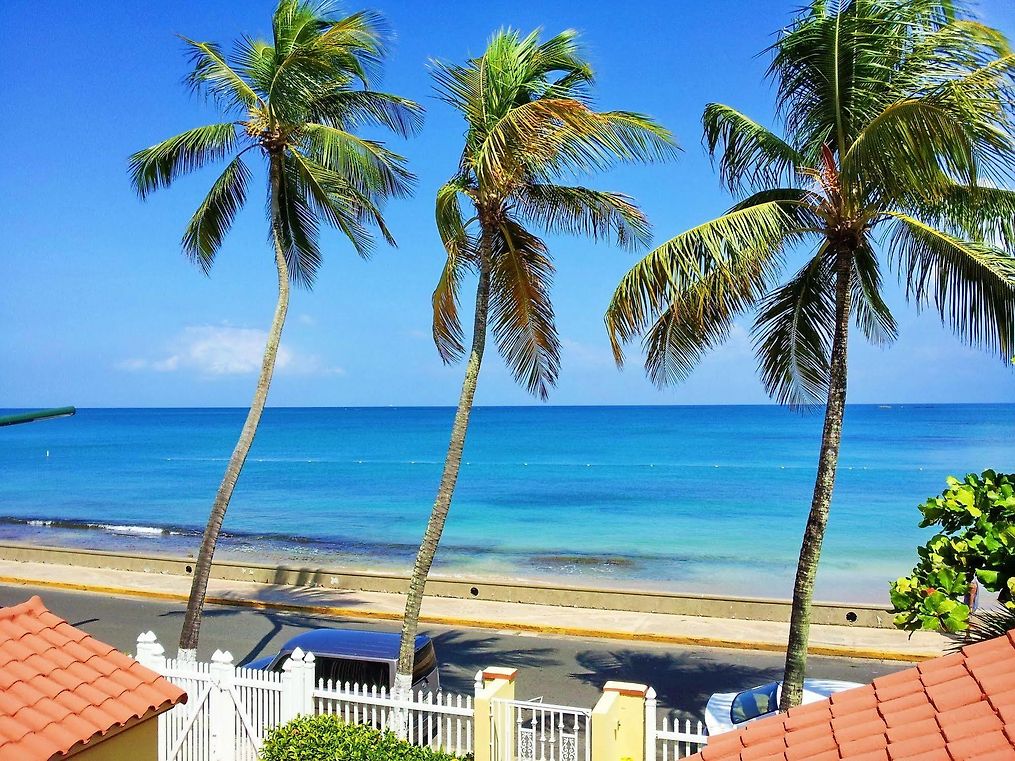 Highlights
Hotel Awards
According to guest reviews, the hotel has been rated as 
Use Badge
Address
2212 Park Boulevard
,
San Juan
,
Puerto Rico
,
00913
, Puerto Rico
Overview
Lovely Tres Palmas San Juan is a 3-star property situated within 1.7 miles away from La Placita. The modern hotel is equipped with free self parking and a swimming pool.
Location
The hotel is set in Ocean Park district, within easy reach of Ocean Park Beach. La Plaza del Mercado de Santurce is less than a 10-minute ride from the lovely designer property. Condado lies 1.7 miles of the property.
Tres Palmas is about 15 minutes' drive away from Fernando Luis Ribas Dominicci airport.
Rooms
The cheap property offers 20 rooms with a mini refrigerator and ironing facilities, and such modern conveniences as satellite television and Wi-Fi. Guests can also make use of a bidet, a separate toilet and showers. Some rooms look out over the garden.
Eat & Drink
Continental breakfast is provided daily. You can dine at Che's, nearly 5 minutes' walk away.
Internet
Wireless internet is available in public areas for free.
Guest Parking
No parking available.
Year renovated:   2012.  Number of rooms:   20.
Facilities
Most popular facilities
Kitchen facilities
Cookware/ Kitchen utensils
General
Free Wi-Fi
Parking
Swimming pool
TV
Kitchen facilities
Breakfast
Room features
Free Wi-Fi in rooms
Air conditioning
In-room safe
Ironing facilities
Self-catering
Cookware/ Kitchen utensils
Media
Flat-screen TV
iHome
Telephone
Cell phone charger
AM/FM alarm clock
Good to know
Check-in
from 16:00-23:59
FREE
Check-out
until 11 am
FREE
Children & extra beds
One child
0 - 2 years
Crib
FREE
Existing beds
FREE
One child
3 years
Existing beds
FREE
Maximum capacity of extra beds in a room is 1. 
Pets
Pets are not allowed.
Rooms and availability

Bed options:

Room size:

205 sq. feet

Max:

2 persons
Garden view

Air conditioning
Deluxe King Room Sofa Bed Patio View

Bed options:

Room size:

120 sq. feet

Max:

3 persons
Garden view

Shower

Air conditioning

Bed options:

Room size:

100 sq. feet

Max:

2 persons
Garden view

Shower

Air conditioning
Location
2212 Park Boulevard
,
San Juan
,
Puerto Rico
,
00913
, Puerto Rico
City landmarks
Nearby
Restaurants
Avenida Las Americas
Parque Dr. Jose Celso Barbosa
3000 ft
Museum
Museum of Art of Puerto Rico
1.7 mi
Market
La Plaza del Mercado de Santurce
1.7 mi
22 Av. Ponce de Leon
Luis A. Ferre Performing Arts Center
1.7 mi
Square
La Placita de Santurce
1.7 mi
1054 Ave Dr Ashford
Plaza Ventana del Mar
1.7 mi
Museum
Contemporary Art Museum
1.7 mi
Museum
Museum of Art Comtemporary of Puerto Rico
1.7 mi
Church
Our Lady of Sorrows Catholic Church
1.3 mi
Store
Color Conspiracy Tattoo Gallery
1.0 mi
Church
Stella Maris Roman Catholic Church
1.7 mi
Stadium
Jose Miguel Agrelot Coliseum
1.9 mi
Park
Plaza Antonia Quinones
1.7 mi
3-5 Calle Villa Internacional I
Punta Las Marias Skate Park
1900 ft
Restaurant
Levis Restaurant & Grill
1200 ft
Restaurant
Marimba House of Jazz and Blues
2200 ft
Restaurant
Outback Steakhouse
1700 ft
Restaurant
Mar Del Caribe Restaurant
3000 ft
Getting around
Airports
Luis Munoz Marin International

(SJU)
3.9 mi
Fernando Luis Ribas Dominicci (SIG)
4.7 mi
Train
Sagrado Corazon Station
1.6 mi
You can book a shuttle, once your reservation is complete.
Reviews
Greg

The venue was in a secluded location. Big room with free Wi Fi. Their housekeeper is the best! Worth its 3 stars.

George

It was a 3-star hotel in every way.

No restaurant. The bed was hard.

John

We appreciated our stay in Tres Palmas. Free Wi-Fi was working perfectly. The beach was good and not far from our hotel. Plenty of restaurants to eat close by, like Levis that was only 15 minutes' walk away:)))

Gordon

Comfortable bed

Soundproofing

missing

The owners and staff were very nice, helpful and accommodating. The place was beautiful, fresh white and blue paint throughout with beautifully maintained garden paths, a pretty fountain and lovely hammocks with the ocean right across a narrow road the sound of the waves and the sea breeze is a constant presence. They gave us beach towels and boogie boards and beach chairs were available too. We were always glad to come back to this peaceful place after exploring the sights. The upper deck had tables, two jacuzzis and was spacious with a fabulous view. We felt lucky to stay at such a nice place for a great price, walking around we didn't see any place we thought was as nice. I will be recommending this place for anyone going to San Juan!

missing

The owners and staff are very friendly and went out of their way to make us feel welcome and comfortable. We appreciated the use of the hot tub to wind down after a long day. The ambiance was like a bed and breakfast setting as we met most of the guests at complimentary breakfast. The facility has recently been redone in a very tasteful manner and is very comfortable. We highly recommend tres palmas inn to anyone who wishes to be in close proximity to Old San Juan.

missing

I have been staying at Tres Palmas for years and was pleasantly surprised with the new ownership. The rooms have all been upgraded, the courtyard and pool area cleaned up, and the prices still low for this most-convenient beachside, hop-from-the-airport inn. I look forward to many more visits to Tres Palmas with family and friends!

missing

Room looked very nice and clean. All amenities there. Staff was courteous.

Beds were very firm. There was a lot of noise leakage from the outside and neighbors, so we were awakened at night, and also early in the morning from the surrounding people coming in and out. Don't stay next to the coke machine - very loud!!

missing

- friendliness of the staff - free breakfast was all you need - free wifi - nice, cosy atmosphere

- a little bit far from the city centre

missing

This was a lovely hotel with an excellent location, the beach was right outside the front door. The staff were so friendly and the amenities available to the guests were very good. We had a wonderful stay here!!

It is 15 minutes in a taxi to Old San Juan and the taxis started eating into our spending money especially if your going in and out a few times throughout your stay.

missing

Lovely small hotel right on the beach. The only noise was the sound of the waves crashing onto the beach - lovely. We started in room #9 which was quite small with only a small window. We had to stay longer because of flight cancellations because of super storm Sandy and we then moved to room #15. This was a fabulous room with huge windows and a beachfront view. This room also had a bigger bathroom than #9 but did not have a hand held shower as #9 did. Breakfast was certainly adequate for our needs for the 3 days we were there. Staff were excellent, friendly and helpful.

It was quite a walk to shops and restaurants and if carrying groceries required taking a cab back. Cabs to downtown San Juan and shopping mall were $20 each way. Tv channels in English were very limited and more or less restricted to cnn which as our stay coincided with the us election was in effect a one subject channel for our entire stay. Recommend that the hotel upgrade their showers and tv offerings.

missing

Very fiendly and helpfull staff. Easy access to a nice beach Cost in my budget range

Street noise after hours. Solar heated and limited hot water. Rooms Ideal for a party of one but a bit cozy for two.

missing

The staff is very friendly and accomodating and makes you feel welcome from the minute you arrive. Hotel is literally right across the street from the beach and provides towels and beach chairs as well as bicycles too. The breakfast area is spacious and open so you can enjoy the sounds of the ocean and the nice breeze. Location is about 15 minutes from Old San Juan and a short drive to the Isla Verde area.

I stayed 3 nights and had no complaints or issues with my stay.

missing

Well positioned close to a beach, very well maintained, clean, with a lot of greenery, swimming pool and jacuzzi. Parking available just in front of the inn, ideal for those who do prefer smaller hotels and personal approach (nice and helpfull staff).

Small beds.

missing

Leaving to go to another hotel!!!!!!!!!!!!!!!!!!!!!!!!!!!!!!!!!

No beach to be comfortable at. Air conditioning was very difficult to regulate. The location around the hotel was not safe. We were advised by a desk clerk how to go to a grocery store. We were not able to find it. A couple saw and had pity for us. They knew we were not in a safe place. They actually took us to a store and returned to the hotel. I was not told that there was a couple of jacuzzi at the hotel Breakfast was poor!!!!!!!!!!!!!
FAQ
How far is the city center from the Tres Palmas?
San Juan city center is reachable within a 30-minute walk from the Tres Palmas.
Are there any historical sites close to Tres Palmas?
During the stay at Tres Palmas guests can visit Condado (1.7 miles), Playa Ocean Park (0.8 miles) as well as the beachfront park "Parque Dr. Jose Celso Barbosa" (0.6 miles) among others.
Which airport is the closest to the 3-star Tres Palmas San Juan?
The closest airport to the 3-star Tres Palmas San Juan is Fernando Luis Ribas Dominicci airport (0.5 miles) and it is reachable with a 15-minute drive.
Is there parking at the Tres Palmas?
Yes, the Tres Palmas features parking available onsite.
Can I have lunch or dinner next to the San Juan hotel?
You can dine at Che's and Barbacoa restaurants located within a 6-minute stroll from the San Juan hotel.
Can I have breakfast at the hotel?
Yes, guests of the hotel can enjoy continental breakfast.
What time is check-in and check-out at the Tres Palmas San Juan?
Guests of the Tres Palmas San Juan can check in from 4 PM to 11.59 PM and check out from 11 AM.
Which amenities are included in the rooms of the Tres Palmas?
Every room at the Tres Palmas includes WiFi and a flat-screen TV with satellite channels as well as an individual safe and smoke detectors for guests' security.
Is there a swimming pool in the San Juan hotel?
Yes, the San Juan hotel features a swimming pool.
How can I spend my leisure time at the Tres Palmas San Juan?
You can make use of a community pool and entertainment activities provided at the Tres Palmas San Juan.